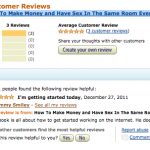 If you're an online shopper like me you probably use this massive amount of product feedback on Amazon.com for your own good. Sometimes other stores provide better prices, sometimes you need an item urgently so you will buy it offline. But no matter if I'm going to buy from amazon or not I consult its product rating and user reviews.
Of course many sellers also figured out the power of good amazon rating and no wonder that some of them try to play it. Hopefully this post will help you to identify fake reviews and save you some money.

Recently I was shopping for a good book on making money with youtube. So go ahead and search for something like "youtube business". In the top 10 there will be a book with perfect reviews and perfect match: "The Youtube Money Machine". I typically completely ignore customer feedback on products with just one review. Most likely that single review is from the seller himself or his relative/friend. But here we have 4 five-star reviews. I checked the book description and "Look Inside" and found it looking cheesy at best. Something looked wrong:
In the book description

Lot's of incomplete sentences. If author is using the same style in the book I won't be able to enjoy it
Lot's of UPPERCASE. That's a bad style in any kind of communications and for books it's total disaster
Entire text is composed like it's a flashy annoying commercial. Eeeeew.
Kindle edition only

In the "Look inside"

Same misuse of UPPERCASE
Now author got ability to abuse font color, size and decoration and (mis)used it too
No real preview of the content
A lengthy explanation of some kind of "Refund". Refund? Really? In a book?
Two pictures with dollar bills on them.
Well, let's take a look at the 4 reviews it got.

The first review is dated June 25th, 2011 and I hardly can imagine a regular buyer who would write such a review. This whole text is one marketing speech, not a review you and I would write about a book. Now the three other reviews are even more interesting. They are titled "Short and sweet", "Helpful and simple", "Better than I thought" and were written by John, Jimmy and Joseph. All three are dated December 11, 2011. That was one lucky day for the author of this book (his name is John, by the way) that he got 3 positive reviews in that single day. No reviews before (except for that marketing speech), no reviews after, but in one single day three happy customers decided to leave three five-star reviews. What's even more curious is that all three reviews are
– three lines long
– start with "I"
– in general written in the same style
I'm not an expert in text analysis, but you don't have to be one to suspect that all three were written by the same person. And the level of that person's creativity is very much comparable to author's.
Still not convinced? Ok, check the other books written by the same author. Same picture: same three reviewers, all reviews give 5 stars, all three are in the same style. I guess you pay these reviewers per line of review, because for this book called "How To Make Money and Have Sex In The Same Room Everyday" all reviews are just one-liners.
Actually if you check the profile of the reviewers you will find it amazing. For instance Mr. John Thwart didn't miss a book from "Studio Visual Steps". He loves their products very much and leaves five star ratings for all of them, supplied with the same uniformed comment. He is also an incredibly fast reader as all reviews were done in one day.
All three guys (John, Jimmy and Joseph) share the same taste. For instance all three tanked this poor book called "Il metodo Milan – Dalla conversazione all'appuntamento (Italian Edition)" in one day. I don't know why they hated it so much. It's either their services expand not only to promoting certain authors, but sinking their competitors, or they decided that too many positive reviews look suspicious.

The first reviews Jimmy posted are actually funny. I'm curious who would leave a positive review for books with name … well, check out the titles Jimmy enjoyed in the beginning of his carrier . I guess he was the only one who rates these books before Amazon pulled them off the shelf.
Well, what started with just one suspicious book turned into a small research with very interesting results. Let me summarize the findings below, but first let me be accurate and start with the …
DISCLAIMER:
I'm not saying that the books listed above are bad. I haven't read them actually and not going to.
I'm not even saying that these particular reviews and reviewers are fake. I'm saying they are very suspicious and personally I won't trust them. It's up to you to trust such reviews and products or not.
TO CUSTOMERS:
Before buying stuff please spend some time and research the product you're going to buy. Saving your money is just one aspect of this. By not buying obviously bad products you will reduce the amount of trash and save a lot of resources. You will also punish the companies who produce bad products, hopefully spend this money for good products and support good sellers.
Don't rely completely on the star rating. Spend a minute and review the reviews too. You don't need to do the analysis like the one above. If your gut feeling tells you that something is wrong with the reviews then don't buy. Reading this post actually boosts your gut feeling precision by at least 27% :)
In general bad reviews are more useful then positive. You can figure out that product is awesome by just looking at the star rating. Bad reviews will help to to verify if that rating is true. Also no product is 100% perfect and it has to have some bad reviews. Reading them will help you to discover all the small imperfections and check if they are critical to you.
TO AMAZON:
Thank you for being a great source of products and product information all these years. You helped me to save a lot of money by not buying stuff I won't like.
I'm sure you know that sellers are getting more creative in promoting their products and sometimes their technologies are against buyers' best interests. Unfortunately you're not doing a good job addressing the problem. Most your customers won't spend too much time for analyzing the product reviews and you leave them unprotected from false reviews and ratings. Please invest some resources into making one of your best features work properly. I'm sure you know how to implement this feature. Well, if you don't drop me an email and I'll respond with a few ideas that I don't want to share here. You know, the guys who write fake reviews are reading blog posts too and I'm sure this post will help them improve too :)